THAW stream new album 'Grains' via Invisible Oranges
Poland's experimental black metal five-piece THAW teamed up with Invisible Oranges to launch an exclusive stream of their new studio album "Grains", set to be released on December 8th via Agonia Records. Listean to the album in advance and read an interview with THAW at this link:
http://www.invisibleoranges.com/thaw-grains/
Grains" has been once again recorded and produced by THAW at Maq Records Studio and Satanic Audio. A cover painting made by Furia's Sars as well as appearances of Maciej Moruś (Mitch & Mitch, ex-Starzy Singers) and Stawrogin (Odraza) only add to the album's mystery and weird magnetism.
Quelle: agoniarecords.com
Ähnliche Artikel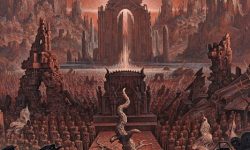 Heute enthüllt die Band endlich ihren zweiten Track-by-Track Trailer! Wenn du alles wissenswertes über die Songs 'Bleed The Same', 'As
Weiterlesen